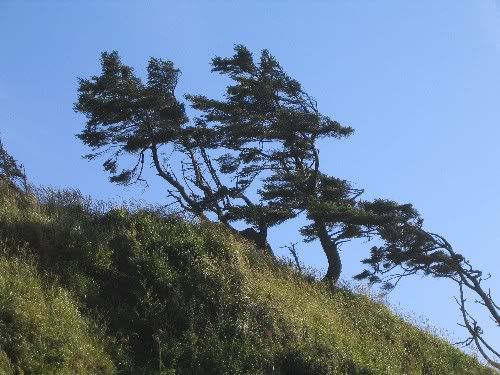 Seriously, kids. All I need is air in the spare.
The nights that
Alex
would knock softly on my window, a light roll through each of his fingertips, were beach nights. This was not too long before I introduced him to the woman who would become his wife, a beautiful girl with long black hair and blue eyes, the only one who could ground him in all the right places--who would stand on his feet while he danced. We'd head down to the beach, just the two of us in his beat up old car, and camp out on an empty lifeguard stand to tell stories. On warm nights it was always hard to find an abandoned stand because they were often already occupied by couples taking advantage of the little privacy to be found on the beach. Alex and I weren't a couple, and all we wanted was a spot to thumb wrestle in out of the wind.
I am a city girl, but my city life is always underlined by my proximity to the water. I grew up on the Gulf of Mexico, after all, and went to college by the Atlantic.
This is all just to say that we drove out to the Pacific Ocean today.
Steph and Ryan
had never seen it before, and it is always necessary to complete these cross-country trips. I have only seen the Pacific
once
before myself, and that was well over a year ago.
And I love just climbing in the car and driving places, with a general direction or a vague destination in mind. I love singing along to the radio regardless of whether or not I know the words, eating in roadside diners, and looking at everything. There were daisies in bloom all along the roads and I'm pretty sure there was nowhere else that I could possibly have been today.
It's been an extraordinary weekend, and it looks to be a busy week as well. Tomorrow we're off to Tost to see my buddy Chris play his saxophone, and then we'll head to The Rainbow to check out the drummer we befriended the other night. You are, as ever, welcome to come along. Hijinks will very likely ensue.