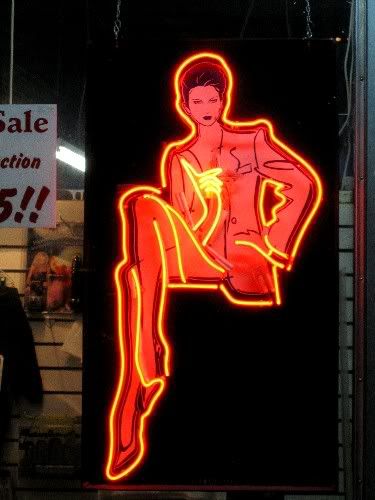 Cat
and I decided at lunch on Saturday that the thing to do would be to go to Canada for the weekend.
I'd never been to Vancouver before, and driving in it looks incongruous, clicked into place against a painted mountain backcloth. Like a stage for a movie set in 2095. The scene in Vancouver--anyway, the downtown Vancouver scene--reminds me of Ybor city only bigger. (Also, when did the jeans and sportcoats look come in again? And when can I usher it back out?)
Anyway, we had a great time. I bought some jeans and a sweater, went to Chinatown's night market, had a tofu-walnut-beet burger, tried on a dress cut down to my belly button, and found a bar with the most fabulous name ever--El Furniture Warehouse. Cat got honked at by some firemen, I chatted with a strange French man, and our hostel's fire alarm went off in the middle of the night.
It was good to get out of the city for a few days, without having any plans at all, and good to be away from my cell phone. I imagine that my building will turn into a great big 4th of July party any minute now, and maybe I'll even join in. But more than likely I'll clean my house and hang out and get ready for all the things that will be happening soon.