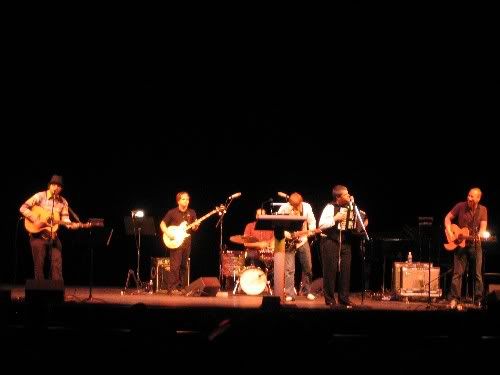 Thanks everyone for all the birthday wishes and phone calls and text messages and posts and assorted miscellany. (Michael, what on earth am I supposed to do with a penis shaped money clip?)
Steph and Ryan
win the prize for several things, not least of which was surprising the heck out of me by showing up at my door this morning with a new stereo. Thanks, guys!
Also? After Visqueen yesterday Cat, Jeff, and I headed to the 826 benefit with Dave Eggers, Sarah Vowell, Mike Doughty, Lemony Snickett and Death Cab for Cutie, cleverly disguised as the Transatlantic Orchestra. And I have to tell you that the most astonishing thing I've ever seen is
Mike
Doughty
on stage with Death Cab for Cutie and Lemony Snickett on the accordion, playing "Hungry Like the Wolf." I'm still swooning.
Today there will be Math and Physics Club, which is just icing on what has turned out to be a splendid birthday weekend.