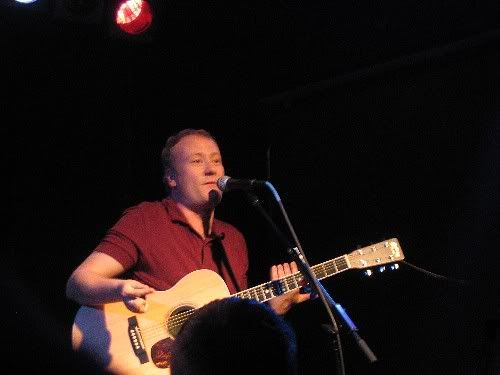 "To me, all sports are just a game of 'who's got the ball?' Who's got the ball? I don't give a fuck...I want a pretzel."
When
Tara
and I drove around the corner on our way to Neumo's, we found a great big crowd standing in a circle outside. Turns out
Mike Doughty
was hanging outside with his guitar, having what appeared to be an impromptu show on the sidewalk.
I love that guy.
Dear Mike Doughty,
I noticed that you were
wearing pants
this time around. Not that I made it a point to look at your pants. Um. This is not the point.
The point is, hooray for you coming back to Seattle and playing another show for us. And thanks for playing The Gambler--you really do need to know when to fold 'em, y'know.
I've said all that I have to say to you a million times before, so this time around I just want to say thanks. Please consider my idea of doing a guitar showdown with Lou Barlow. It'd be such a party.
love,
me