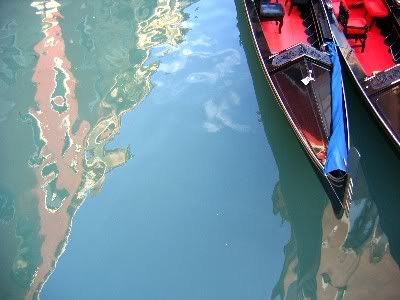 You know, my trip was pretty magical. For magic, I recommend doing the following:
Rome
: Eat gelato in the square outside the Colosseum and think about exactly how many people have been through that space. Then go sit in a church, without reading anything or taking pictures, and figure that religion has kept itself around so long because it creates spaces of peace. Go under the city to see the layers, cities built on cities. Talk politics with a young Italian. Order up some rain and sit under an awning at a sidewalk wine bar, kissing.
Siena
: Climb to the top of anything there is to climb, and don't hold in your physical expression of wonder when the view punches you in the chest. Savor dinner by a window listening to Billie Holiday and have a realization about romance. You'll know that this is the right realization when an old man in a tweedy suit falls to his knees in supplication outside the window. Walk through Il Campo in the rain past a group of men sitting outside a bar who shout "Bella Rosa!" and then start singing.
Take a long, winding bus or train ride through the hill country.
Florence
: Hike up the hill to the Piazza Michelangelo across the Arno with some gelato and sneak into as many people's pictures as you can. Have a sandwich by the town hall and watch groups of teenage American boys try and pick up Italian teenagers with a "Ciao bella!"
Venice
: Go to the market by the Rialto and buy a cup of fresh fruit. Walk through the market eating your fruit and looking at what you'll be eating for dinner. Put on headphones and get lost. When you decide to get found again, take the slow vaporetto down the Grand Canal, looking for the buildings where the water is lapping at the doorstep, and imagine the slowly rotting wallpaper and drapes, chandeliers reflecting themselves on the floors.
Naples: Acquire a newfound appreciation for the life you've been changing by taking a kamikaze motorcycle ride through the city. Celebrate survival by having gelato. Hell, after that, celebrate with two. Go to Pompeii and listen to the total silence of a place that was buried for so long. Go to Sorrento and sit, looking at a view of something pretty. Move to another view and drink limoncello looking at something pretty. Oh, that view over there is nice. Sit there and have some gelato.