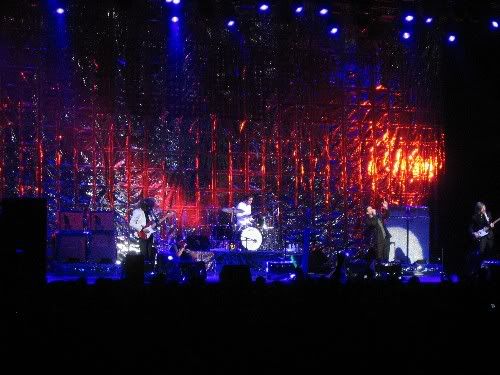 Last night's Killers show confirmed that I am not two more types of girl--the arena show type of girl and the all ages show type of girl. It's always just as nice to find out what I'm not, like Noam Chomsky or Papa Smurf.
British Sea Power, the openers, were the most entertaining band I've seen in a while. A guy from the band dressed kind of like Mushmouth wandered out into the audience and down the stairs right next to me. The bass player broke a string and discarded his instrument, finishing the set by walking around and harassing his band mates. I've never seen a band have so much fun.
The Killers, obviously, need a tambourine player. (Jean's husband might recruit me as the tambourine player in his band. Then I would be the happiest girl alive.) They really pretty much rocked, although they took this weird intermission 3/4 of the way in to set up extra keyboards.
Evidently, all the cool kids are covering Bowie these days.
Pumpkin carving. My house. The 24th. I'm no longer taking no as an answer to anything.
You know what smells really good? The yummy cauliflower-potato-tomato-mushroom cheesy casserole I just made. Yum.
I am still conflicted about all of the shows happening Saturday. Do I go to Bird Show? Harvey Danger/The Lashes/The Saturday Knights? The Genius Awards, where Helio Sequence is playing? The Hold Steady/The Constantines? Too many shows. Any ideas? Anyone wanna join me?
I am still without plans for tomorrow night. Maybe a movie?