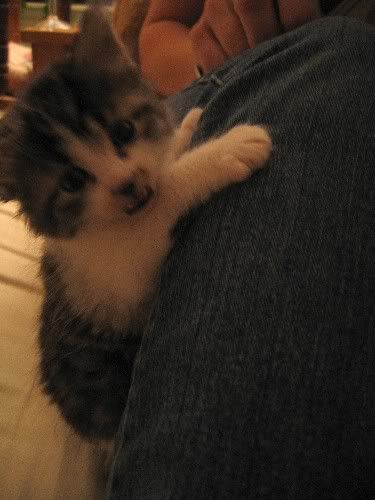 I am now in possession of a six-string guitar with five strings. It was sitting near the recycling when Cat dropped me off last night. Aside from the missing string, it seems to be in perfectly good condition. This is obviously the universe's way of telling me that I really ought to be in a band. Not that I plan on learning how to play it.
Man, this weekend. Friday night Cat and I decided on the spur of the moment to head downtown to see the new Cameron Crowe movie. It was so cute, and we all know how much I like so cute. Afterwards we headed to Dragonfish for the late happy hour to deconstruct Cat's move to Kenya.
Yesterday was girl's day. I met Cat and Caroline for chai. We made a trip to Frye's to look for solar powered thingies and then over to the Traveler's Lounge for diner food. Back at Cat's furniture-free apartment we drank girly pink martinis, watched Sex in the City, and played with pretty miss Erin's boyfriend's new kitty.
Then I came home and found the guitar.
At which point (this is exhausting), I went downtown alone to The Stranger Genius Awards to see Voyager One and the Helio Sequence, as well as take in the super fun crowd that filled the place up. I came across Josh and Peter there, and we milled about, occasionally pointing at, say, a man in a full-length raccoon coat.
I want to run away to the south of France with the drummer from Helio Sequence. He's the most entertaining drummer ever. Him and that lovely pear tart from Thursday night. And a tambourine.
Today was a trip to Fremont with Caroline to see "Frozen" at the Empty Space, which you should all run to see, rather than walking. It's astonishing theatre like that that makes me keep going to see plays.
Tomorrow I'm off to Leavenworth, and in a week it will be time for extreme pumpkin carving. I'm so excited. Last year's special carving guest was Jacob, who I would soon develop a great big crush on, but who that night came over, carved a pumpkin, and left...and all we knew about him was that he had a hot tub. This year's party is sure to be equally full of celebrities.