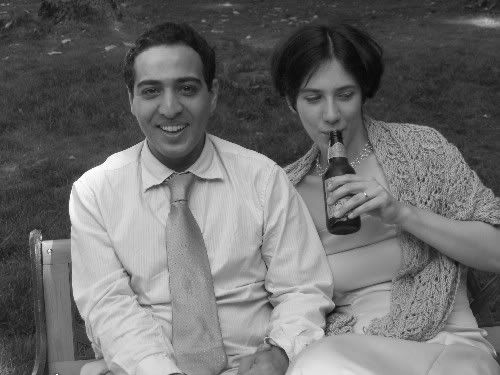 Today was
Julie and Keivan's SECRET WEDDING
. (I'm sorry, I've been thinking of it in all capital letters for a week.) Julie is one of my very favorite coworkers, and she was a member of the
Hoosier expedition--NIH Regionals edition
crew. She is sweet and wonderful and splendid and one of the nicest people I have ever met.
Last Friday Julie let us in on a great big secret--she was getting married in a week to her special guy Keivan. No, she really does call Keivan her special guy, because she really is that adorable. She asked us to keep it a secret if we could because she didn't want people to make a big fuss about it. She had mentioned before that her whole family was going to be in town this week, but never once let on to the real reason for their visit.
So this afternoon Carolyn and I mounted up and headed for Bellevue. The day was perfect and sunny and her son was napping in the backseat. And I have to tell you all that this little wedding party was just. Perfect. Keivan's family came in from Iran and Julie's came over from New York, and other than both great big families there were just a few friends milling about in the yard. The families cooked some delicious food and everyone was friendly and so happy.
While discussing just how Julie the whole event was, her mother told Carolyn and I that 10 minutes before it was time to head to the church she was in the hotel room with Julie, who had her dress on and her feet up against the wall, helping her remove her old nailpolish.
We all know how much I love a wedding, but the reason for that is because I love love. And today there is a backyard in the suburbs nearly bursting with it.