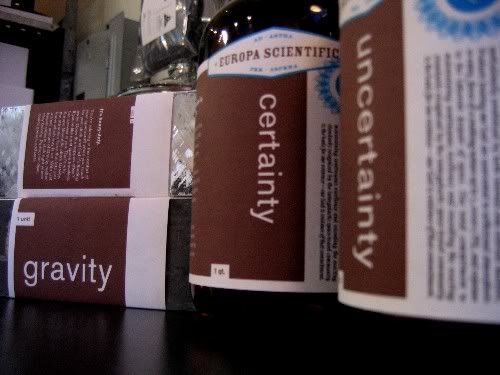 The big discussion at the space store this afternoon was over whether certainty ought to be heavier than uncertainty. A small boy named Luke came in and told me that he was from the planet Seattle.
I hear it's lovely there this time of year.
People have been trying to talk to me today, and I'm only realizing it after they go away. I must seem like a terribly rude girl.
Last night I went to see Caribou and Super Furry Animals at Neumos. I was a little concerned about Caribou because there are bands who just sound better on the radio, and I worried that they would be one of them. But then I realized that there were two drum sets with each drum individually mic'ed, and I knew we'd be ok. I was really, really pleased with them.
SFA was also good, but I haven't been feeling very well and ducked out before the end of the set--I'd lost track of Kathleen anyway, and Neumos was uncomfortably packed.
Despite still feeling vaguely yucky, I'm heading out shortly for Moroccan with the Steph and Ryan crew. One of these days, I'll finish cleaning my apartment.