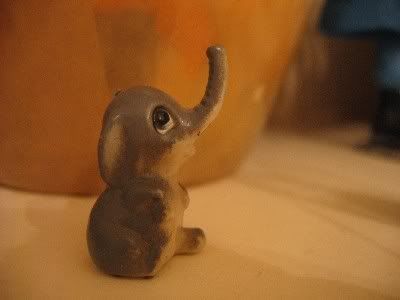 Not too long ago someone emailed me suggesting that, if I'm stuck for stuff to say, I should start telling stories about the objects in my apartment--since pictures taken here and put in my Flickr would suggest that I have a lot of things. Which is true enough. I don't believe in clean, modern decorating. I spend a lot of time here, and I like my apartment to feel like home; to have my stories scattered on shelves and walls and everywhere else.
I've been hemming and hawing about it ever since (hemming and hawing are two of my greatest skills), but the thing is that December has been awful and just keeps getting worse, and all I'm good for right now is complaining and drinking. So I thought I'd give it a shot.
And I thought I'd start with this little elephant. My paternal grandmother, my Nan, collects elephant figures. A number of years ago, right around when they first diagnosed her with Parkinson's disease, she requested that I pick one of her elephants to keep. He's maybe 1 1/2" tall and he lives on top of the bookshelf that has all of my reference books, right next to my desk. My grandmothers are important ladies, and it makes me happy to have reminders of them right on hand whenever I need them.