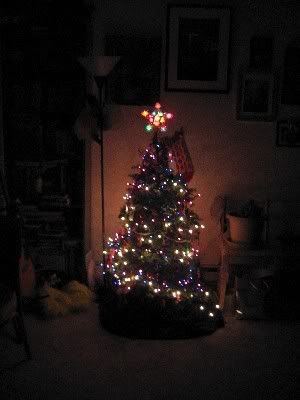 In 2002, I started the
Postmodern Christmas Tree
project. I did it because I was broke, mostly, but also because a Christmas tree was a symbol to me for something that I was lacking, and it seemed inappropriate to have one. So I decided that until I had a family, I was going to make a tree out of things that I already own--use the objects in my life to fill in that absence.
But the thing of it is that I do have a family here. Not the sort that I had in mind when I made that decision, of course--in fact, this weekend's breakup puts me back at the farthest point from that I can get, which is fine--but a family nonetheless. A really great one. And it makes the sentiment behind the postmodern tree feel a little silly.
So today a couple of my best ladies and I went to the tree lot and picked out real live Christmas trees. Once I made it home I turned up the heat and put on my favorite Nat King Cole album (I worked in retail for too many years to listen to Christmas music) and decorated it. My heart hurts a little, having been much used lately, but my tree makes me very happy. Retiring the postmodern Christmas tree was a good decision.